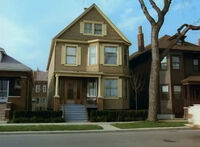 The Winslow House is one of the locations in the show Family Matters. It is home to Carl Winslow, Harriette Winslow, Eddie Winslow, Laura Winslow, Judy Winslow, Estelle Winslow, Rachel Crawford and Richie Crawford at various points in the show series.
The Urkel House is located next door and is home to the Urkel family. The house is an actual home located in Chicago, rather than a pre-made model.
Ad blocker interference detected!
Wikia is a free-to-use site that makes money from advertising. We have a modified experience for viewers using ad blockers

Wikia is not accessible if you've made further modifications. Remove the custom ad blocker rule(s) and the page will load as expected.