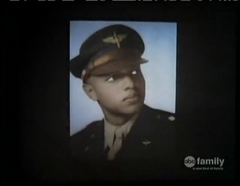 Samuel Winslow is Estelle Winslow's husband and the father of Carl, Calvin, Walter, Frank, and Darryl Winslow. He is the grandfather of Edward Winslow, Laura Winslow and Judy Winslow. During World War 2, he was a fighter pilot and flew a plane that he called the Brown Bombshell.
Samuel's death had a profound affect on Carl since they talked about wanting to spend a lot of time together, revealed in Ice Station Winslow and The Substitute Son on why he wanted to spend a lot of time with his children. In Higher Anxiety, his death was another reason why Carl had a hard time accepting Fletcher Thomas, Estelle's new beau and tried to break them up. Carl feared if he accepted their relationship, Fletcher would die on his mother and didn't want her to endure another heartbreak.
Ad blocker interference detected!
Wikia is a free-to-use site that makes money from advertising. We have a modified experience for viewers using ad blockers

Wikia is not accessible if you've made further modifications. Remove the custom ad blocker rule(s) and the page will load as expected.