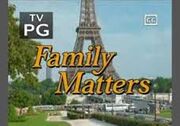 Paris Vacation (Part 1) is the first episode of the eighth season in this television sitcom on Family Matters, that originally aired from ABC on September 20, 1996. It was directed by Richard Correll and written by Fred Fox Jr.
The Winslows travel to Paris, France with the help of Urkel's teleportation device (the Urk-Pad). There, Eddie has to work at a restaurant to avoid going to jail, while Stefan and Laura become models. Meanwhile, Urkel is seduced by Nicole, a lovely French girl, whose cohort (Phillpe) is out to steal the teleporter.
In the plot Steve and the Winslow's along with Stefan travel to Paris, France on Vacation with the help of Steve's new invention, a teleportation device called the Urk-Pad.
Synopsis
Edit
Cast and Characters
Edit
Mathieu Delarive as Andre
Christopher Birt as Gilbert
Gilles Detroit as Phillip
Fily Keita as Nicole