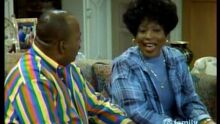 Odd Man In is the 20th episode of Season Eight and the overall 180th episode. It was aired on March 14, 1997. It was written by Fred Fox, Jr. and directed by Richard Correll. Previous what do you know Next flirting with disaster
Harriette is invited to participate in Carl's poker night and cleans up. Meanwhile, Urkel fills in for Eddie as peanut vendor at Soldier Field (while the latter is at a bikini model shoot), but thanks to the nerd's clumsiness, things go as one would expect. In the aftermath, Eddie loses his job and blames Urkel (even going as far as to break off their friendship), forcing Laura to have a talk with her big brother and make him realize that, as usual, he has no one to blame but himself.
Ad blocker interference detected!
Wikia is a free-to-use site that makes money from advertising. We have a modified experience for viewers using ad blockers

Wikia is not accessible if you've made further modifications. Remove the custom ad blocker rule(s) and the page will load as expected.