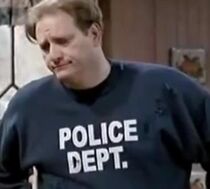 Nick Neidermeyer, played by Ron Orbach, was introduced as Harriette's boss from Fergusons Department Stores in Season 7's Bugged. He was an obnoxious, loud-mouthed prick whom Carl reluctantly invited to one of his poker games at her request. Harriette found herself regretting the decision because Nick was continuously testing his patience and finally tells him off that his behavior won't be tolerated at her house and dared him to fire her. She also tells him that she will never allow him to play poker with Carl and his friends again. Nick tells Harriette he would fire her if he wasn't being transferred to the automotive department. Having no power in firing her, Carl and Harriette pay him back with a pie in his face. He's then escorted out of their house for good.
Sometime later, Nick returns at the Winslows' obnoxious next door neighbor in season 7's Dream Date. His feud with Carl escalates further than the first time, which even irritates Harriette. In Season 8's Getting Buff, Nick has refused to give back the kids football so he plots revenge by moving away and giving Steve their house. Later on, a towel clad Nick is arrested by a rookie officer after a couple of neighbors called to complain about a naked man trying to get inside the house. Carl tells the rookie officer he has never seen Nick in his life and he can be taken away to be booked. However, Harriette stops him by telling the truth, but takes off her former boss' towel.
Later on in Karate Kids, Nick slipped in the Winslow home and faked needing a wheelchair. He threatened to take Carl to court until he agrees to take care of him. However, Harriette and Eddie exploits Nick's scam and sends him on his way. In his last appearance, Revenge of the Nerd, she finds out that Carl and Nick's feud has a negative impact on 3J and Richie who imitated them. She tried to get the men to get along so they can end the feud. They finally did when Carl learns that Nick was jealous of him because he has a wonderful family, while he's still living with the divorce from his ex-wife, Helen.