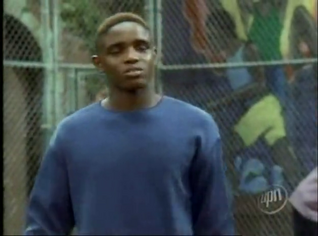 Kenny Jackson known as the Spider, is a basketball player whom Eddie teamed up in Grandmama. He later returns in Twinkle Toes Faldo. He is portrayed by Donovan McCrary, Darius' younger brother
Grandmama
Edit
Kenny was introduced as a basketball player looking for a partner. Eddie thinking he'd have a better chance with winning the Chicago Bulls tickets with him, ditches Steve. Kenny and Eddie were evenly matched with Steve and Grandmama until she suffers an injury. She would later force Kenny to the sidelines leaving Eddie and Steve for a one-on-one match. He and Eddie would lose to the basketball tournament with Steve making the extra point to win for him and Grandmama.
Twinkle Toes Faldo
Edit
Kenny returns as a basketball rival to Eddie and Steve. Waldo, having learned how to tap dance from one of his relatives, helps his friends even the score with Kenny and his teammates. He is last seen with Steve and Eddie learning hoe to tap dance from Waldo when Carl walks in.
Ad blocker interference detected!
Wikia is a free-to-use site that makes money from advertising. We have a modified experience for viewers using ad blockers

Wikia is not accessible if you've made further modifications. Remove the custom ad blocker rule(s) and the page will load as expected.