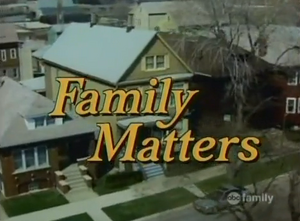 This community was created by the fans, for the fans, and is dedicated to housing a useful and informative database for all subject matter related to the American sitcom Family Matters.

Welcome to Family Matters Wikia! The home of Urkel.
About the Series
Family Matters is an American sitcom that aired for ABC from September 22, 1989 to May 9, 1997 and for CBS from September 19, 1997 to July 17, 1998. It has a total of 215 episodes in 9 seasons. The series was created by William Bickley and Michael Warren and executive produced by Bickley and Warren, along with Thomas L. Miller and Robert L. Boyett.
Before the beginning of the series, Rachel Baines-Crawford married to Robert Crawford, and they had one son: Richie, then she has a family member are Harriette (sister), Jimmy and Darlene Baines (parents), Clarence (cousin), Eddie (nephew), Laura (niece), Judy (niece) and Carl (brother-in-law). Her husband died when she was mentioned by Carl's mother Estelle Winslow.
Main Characters
Episodes
Ad blocker interference detected!
Wikia is a free-to-use site that makes money from advertising. We have a modified experience for viewers using ad blockers

Wikia is not accessible if you've made further modifications. Remove the custom ad blocker rule(s) and the page will load as expected.