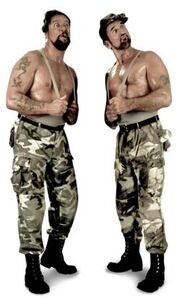 The Bushwhackers is the wrestling tag team that competed first as the New Zealand Kiwis and then as The Sheepherders during their 36-year career as a tag team. They wrestled in the WWF (now WWE), ECW, Jim Crockett Promotions, and on the independent territorial wrestling circuits. They were appeared in Psycho Twins from the special guest on Family Matters.
Ad blocker interference detected!
Wikia is a free-to-use site that makes money from advertising. We have a modified experience for viewers using ad blockers

Wikia is not accessible if you've made further modifications. Remove the custom ad blocker rule(s) and the page will load as expected.